Helping people to find the perfect franchise is how FranServe Consultants build a profitable home-based business.
.
Franchise companies pay substantial referral rates for assisting them to source qualified buyers for their franchises. This low-investment opportunity gives you more flexibility, (full or part time) and supports a fast return on investment.
.

.
If you don't want to deal with the time and financial commitments of a typical business, then becoming a Franchise Consultant may be the right fit for you.
FranServe Consultants can build a lucrative home-based business by guiding their clients through the franchise selection, evaluation and buying process and by helping them access the capital to own and operate that franchise. FranServe Consultants can also increase their returns by helping business owners turn their successful business into a franchise.
Our consultants represent 100s of franchise brands and work with prospects that are looking for business ownership opportunities. They assist candidates by exploring ideal franchise opportunities that meet their lifestyle and professional goals.
.
The 3 FRANSERVE CONSULTANT PROFIT CENTERS
Helping people buy a franchise.
Helping clients to access the capital to own and operate that franchise.
Helping to turn successful businesses into franchises.
.
"Starting my own Franchise Consulting business is the best decision I have ever made! I enjoy helping people choose the right franchise, I have a flexible schedule, and I receive very high fees for my service. I joined FranServe because they have a huge portfolio of franchises, a terrific training and support program, continuing education, a strong reputation in the industry and state-of the-art software to help me run my business. This is a great business in a growing industry."
—Vicktoria White, Atlanta, GA
.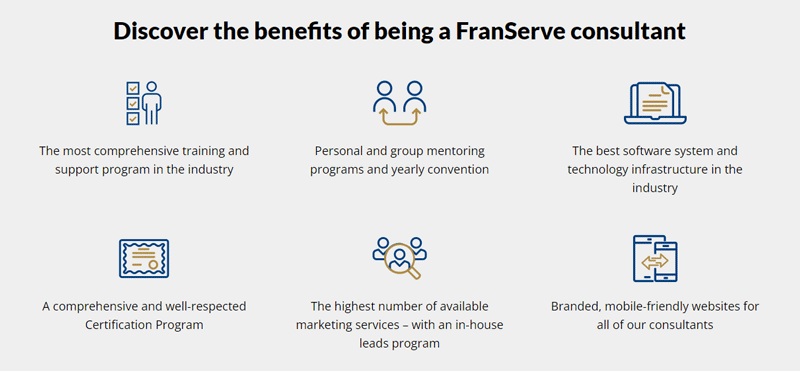 .
What sets FranServe apart:
Home-based, low overhead business model.
Flexibility - part-time or full-time.
No prior franchise experience necessary.
No selling or cold calling. Ongoing access to FranServe's multiple lead generation and marketing programs.
High demand, high growth, recession-resistant industry.
Return your investment with as few as 1 or 2 transactions.
6-figure income potential.
Thorough 3-phase new consultant training program.
160 hours yearly of continuing education
Personal coaching/mentoring by a senior FranServe Consultant.
Regularly scheduled Team mentoring Mastermind sessions.
Support site with industry-leading franchise search/matching functionality.
A proprietary client and lead management system tailored for Franchise Consulting,
Recordings, scripts, presentations, reference material, forms and consultant tools are all available for your training.
Full hosting and maintenance of a custom marketing website branded to your business.
.
.
Simply put, if you want to be the best, you need to be trained and supported by the best!
.
The demand for Franchise Consulting is increasing every year, growing from 5% of people who worked with a Franchise Consultant to buy a franchise in 2008, to over 45% today, making Franchise Consulting a highly in-demand industry!
.
Partner with the Best Company in a Growing Industry... FranServe, Inc.
REQUEST INFORMATION BELOW AND WE'LL BE IN TOUCH.