.
GORILLA is going BANANAS about our search for more Franchise Partners!
.
Gorilla has grown to over 50 locations across Canada and as such is now known for its instantly recognizable branding and professional appearance. Professional services and happy branding keep smiles on our customers' faces, and keeps them calling year after year.
We offer 'the total package' of top of the line services in the exterior property cleaning and maintenance industry. A Gorilla franchise has a minimal start-up cost, and low monthly overhead costs, all while running it from your home office. If you dream of working outdoors, owning a scalable company, managing your own time, spending time with your family and turning your business into a "well-oiled profit machine", then GORILLA is right for you!
.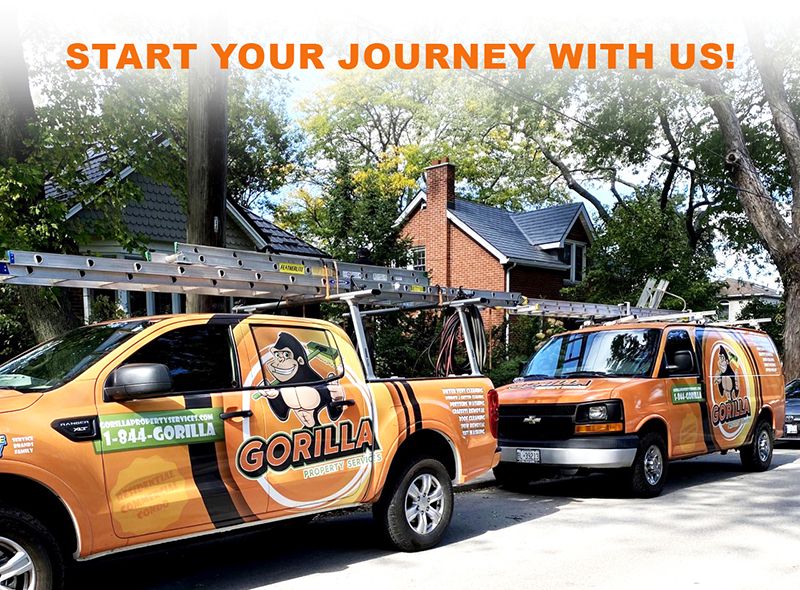 .
Why choose Gorilla?
.
Our Branding
Easy to remember name and logo, great looking trucks, and nobody can resist a smile when they see the GORILLA'S go by! Just park your 'Gorilla Mobile' on the job, and new business will come to you. It's really that simple!
.
The GORILLA Call Centre
The heart of our operations; Receiving calls from our 1-844-GORILLA toll-free number, and emails directly from our "contact for quote" button on our website, both dispatching 24hrs a day, 7 days a week in English and French. All this means you can worry less about the jobs coming in and use more of your time available to work on your business and provide great service to your clients. We're here to ensure that someone is always available to respond to your customers when they call/email, and you'll get all the details of that call/email right away.
.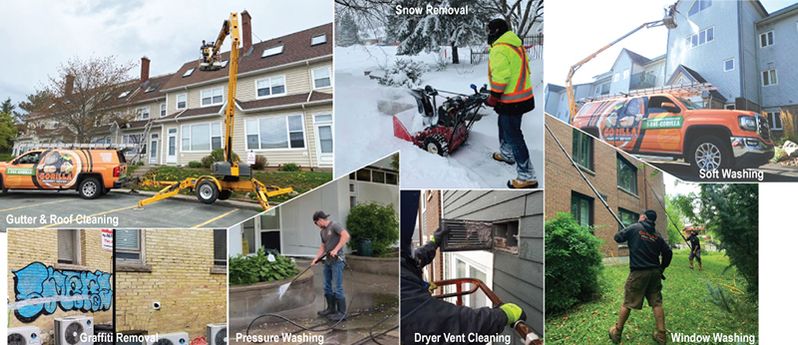 .
Training and Ongoing Support
At GORILLA, the end of your initial training is just the beginning. We want you to know that our team is here to help you with ongoing training, support and coaching. We'll train you in Safety, Sales, Clerical, Field Work, Territory Growth, Estimating, Marketing, Quality Control and more in your 2-week training period. Got a question? Just contact us and our team will guide you through. You'll have the knowledge to not only grow your business, but to grow it properly.
.
Set Up Costs
A GORILLA protected territory starts at $62K, including the franchise fee and equipment. We can work with you to tailor a package for you.
.
So what makes GORILLA so special?
There are other companies out there that provide some of the 'Big 7' Exterior Maintenance services...but we're not like any of them! When the GORILLA Truck pulls up, your client will see a whole new level of service, and professionalism, it's that simple. The highest level of service by well trained, uniformed, clean cut and friendly technicians who live by the motto: "If you don't take care of your customers, someone else will". We strive for complete customer satisfaction, every time.
.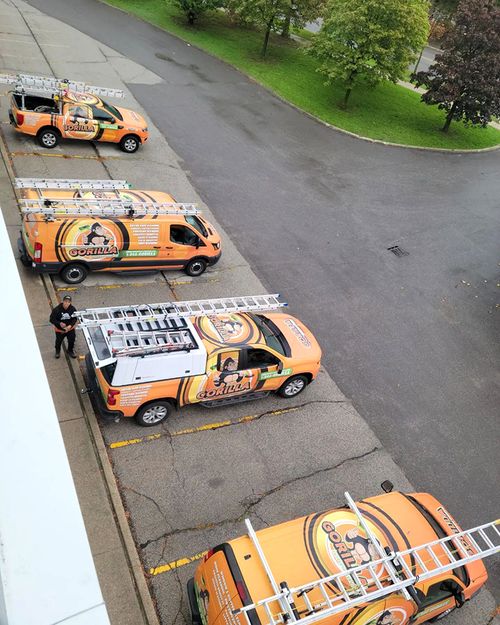 .
The Benefits in a Nutshell
Run the business from your home-based office
Ongoing training and support in all aspects of the business by our experienced franchise team
Run your business mobile, all done on a tablet or even your phone!
Fun, and recognizable branding
24/7 Call centre to handle your calls and dispatch
Clean, fun atmosphere to work in
.
So you want to be a Gorilla Property Services owner! Now what?
Well, contact us today to find out more about this great opportunity!