Canada's Undisputed Fried Chicken Leader
.
KFC Canada currently has primary franchisee recruitment interests for Quebec
but is also accepting applicants in British Columbia, Toronto,
and all small town/rural markets nationwide.
.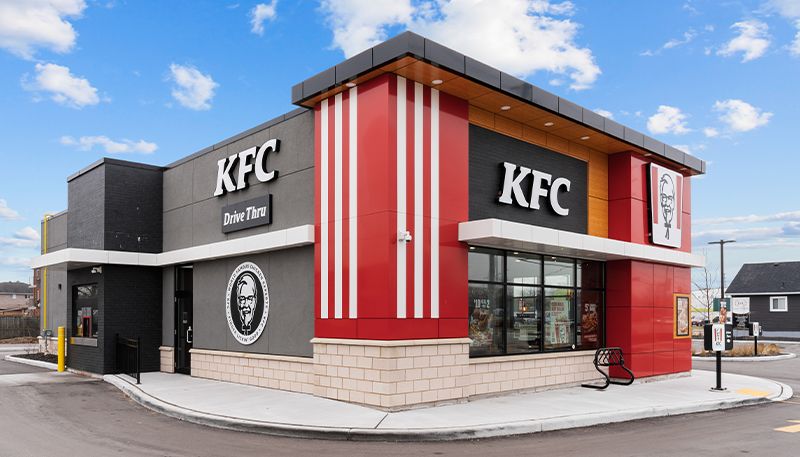 .
The Company:
70+ years in business, 27,700+ international restaurants in over 150 countries and territories and more than $31 billion in yearly sales. Kentucky Fried Chicken is undoubtably the world's largest, most iconic and most influential fried chicken brand. Opening a new restaurant every 3.5 hours globally in 2022 and achieving positive system sales growth secures KFC's position as the fastest growing retail brand, QSR brand and fried chicken brand in the world. Here in Canada, KFC holds the crown as the country's undisputed fried chicken leader delivering the world-renowned 11 Herbs & Spices to Canadians for 65+ years through 630+ restaurants spanning across every single province & territory. The brand has clearly got the Finger Licking good recipe for success.
.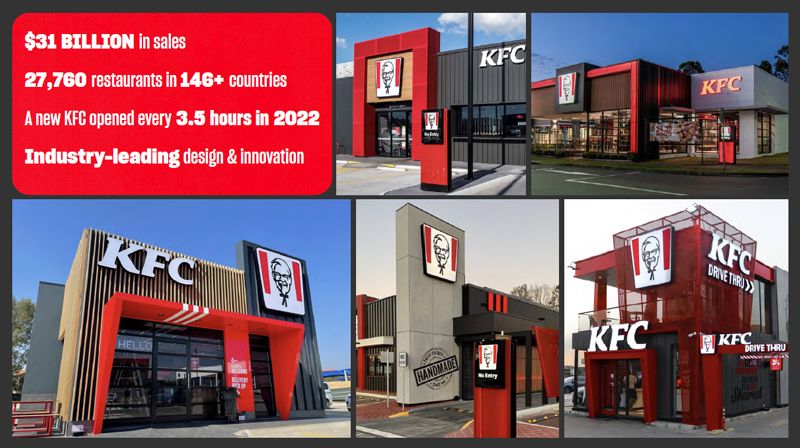 .
The Opportunity:
If you are looking for your next investment and are eager to own your own business, KFC Canada wants to hear from you. Ambitious hypergrowth plans in the Canadian market through 2026 include intensification & diversification of brand expansion strategies which would see growth of traditional restaurant models + the introduction of new restaurant formats including urban-core, delivery/carry-out and non-traditional models like gas stations, highway stops, airports and campuses all which present new and exciting high potential investment opportunities for new partners of the brand.
.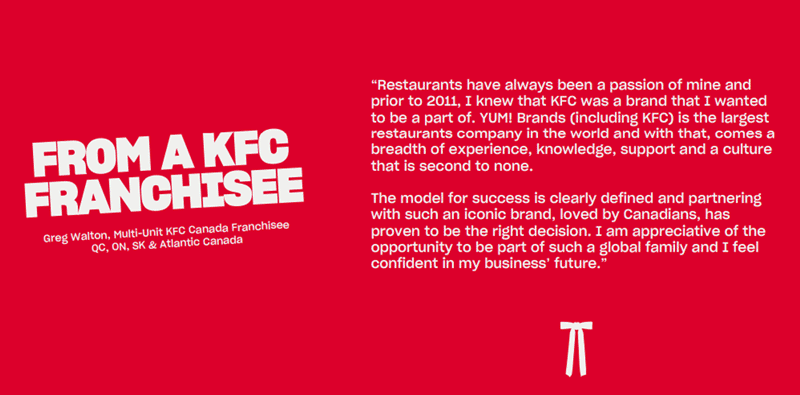 .
The Benefits:
1. Globally Iconic: 150+ Countries, 27,000+ restaurants
2. Locally Relevant: 65+ years of service in Canada + restaurants in all provinces & territories
3. Thriving business model: Franchisees continue to re-invest. 8 franchisee groups own 88% of the portfolio
4. Partnership Focused: To ensure your next investment is successful, our team assists all functions of the franchise development cycle: analytics, real estate sourcing, site selection, construction & design, training, operations, marketing (national, regional, local), supply chain and more
5. Optimized Real Estate: Smaller footprint (1,000 – 2,000 sqft) designed for an enhanced digital experience and digital transactions
6. KFC Everywhere, Every Way: industry leading, digitally supercharged, omni-channel business model
7. Champions of Chicken: 100% Canadian farm raised, no steroids/added hormones, first in Canada to offer a plant-based chicken alternative
8. Building Green: HVAC fundamentals, Equipment Efficiency, Energy efficiency, Water use reduction, Exhaust Hoods
9. Operating Green: Compostable Packaging, Bamboo Buckets, Eliminating plastic, Marine Biodegradable sandwich bags
10. KFC Harvest Program: No Waste, No Hunger. Donating surplus chicken to food banks and shelters every day. Since 2016, 297,000 lbs of food have been donated to 244 unique charities across Canada
11. Training: Rooted to a passion for people capability, new franchisees participate in a comprehensive 8 week training program supported through hands-on learning with the brand's most experienced restaurant general managers and franchisees. Ongoing training is provided for national promotions, new product launches, team training and management training
12. Supply Chain Management: All KFC franchisees participate in a purchasing co-operative that consolidates the purchasing power of KFCs robust network in Canada in order to negotiate for the best prices on inventory and supply
.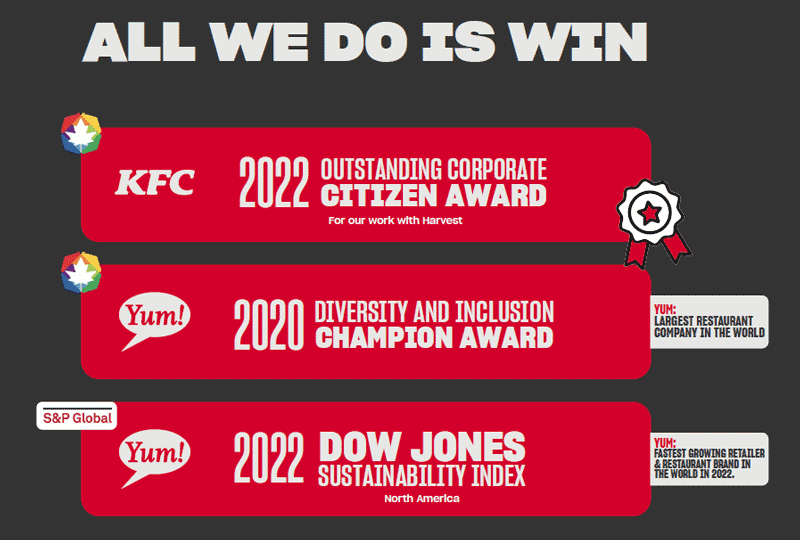 .
Join Canada's Undisputed Fried Chicken Leader