The pandemic caught many businesses off-guard, but some, like Aisle 24, were uniquely positioned to succeed in a sudden era of social distancing and contactless service.
First established in 2016 as Unattended Markets, these micro, innovative convenience stores offer everything from prepared foods to over-the-counter medications but are completely self-service, with no cashiers. At between 300 and 600 square feet, these c-stores are also easy to tuck into small spaces in residential areas, including apartment buildings, condo complexes and college campuses.
.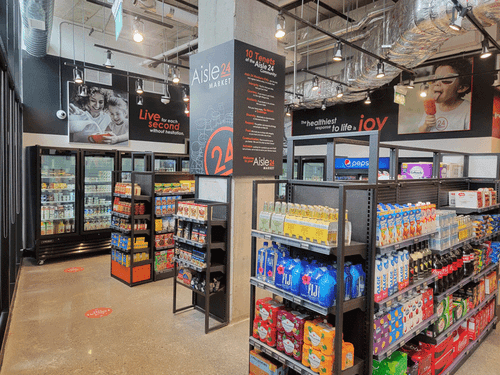 .
The shopping experience is simple for Aisle 24 customers. They download the brand's app and register, linking their credit card to the account. Access to the store is then provided via the app on the phone. Here, customers can find all your typical c-store products--except lottery and tobacco--in a traditional format with a modern flair that appeals to young professionals and students. Open shelves hold products, and there are coolers packed with frozen and refrigerated items.
Currently, there are five franchise locations for this brand in Toronto, with the first store opened by David Thomas in midtown right before the full start of the pandemic. Although this time period was viewed as a terrible time to start a business by many, it was the perfect opportunity for Thomas. Previously part of the corporate world as an investment adviser, Thomas was drawn to Aisle 24 because he enjoys new technology and seeing how such a simple store concept could be enhanced.
The day of an Aisle 24 franchisee is not your typical nine-to-five job, according to Thomas. He kicks off his day at 6 am by checking the previous day's transactions at his location online. Next, he checks his emails. If it's not a delivery day, he is normally done with his work in about an hour thanks to the innovative systems the brand uses, which allows its franchisees to do a lot of the work at home. Two or three days a week, he goes to the store to receive deliveries and cleans and sanitizes while he is there. While Thomas says he works seven days a week, he notes it is not your typical schedule and that he only puts in about 20 hours per week total.
At the start of the pandemic, Thomas was at the store to see customers as he wanted people to know there was a face behind the name. However, as the pandemic intensified, everything changed and he encountered some new challenges. Because the store is app-based, Thomas and Aisle 24 needed to find a way for customers who were not smartphone-savvy to access the store, which turned out to be key fobs.
.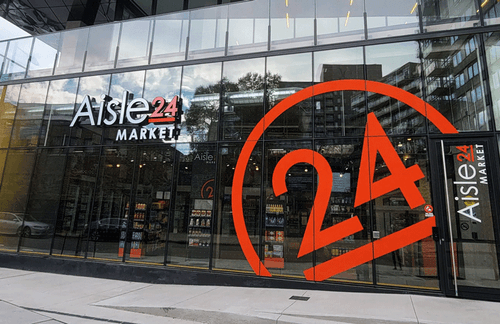 .
Thomas credits the support from the franchiser and the innovative thinking at the brand with his success during this difficult time. He also noted the advantage of good customer service and Aisle 24's training programs. Thomas did not have previous c-store experience, so he relied on his experiences in his corporate background to inform his interactions with customers. With the success of his first location, Thomas is now in the midst of setting up another location on the lower floor of a condo building in Toronto's Canary District.
Founder John Douang and his partners came up with Aisle 24 partly due to this vastly different background from the corporate world of Thomas. Douang grew up around convenience stores as his parents owned one while he was young. From his parents, Douang learned what running a small business was about and what it felt like to be a part of the small business community. However, what Douang didn't like about his parents' experience was the long hours, with his father often working 14-hour days and having to close the store just to take some time off.
With all of that in mind, John; Marie Yong, his wife; and Josh, his brother, decided to launch what would become Aisle 24. It started as an automated grocery vending business but has evolved into a way for customers to buy what they want when they want it. This cutting-edge concept uses remote monitoring to keep an eye on expiration dates, inventory and other aspects of the operations. Video monitoring helps discourage theft, and the weekly reconciling of inventory allows franchisees to closely track any shrinkage.
Micro-markets are increasingly becoming the future, and Aisle 24 is right on the forefront of that wave. Currently, micro-markets account for about 3 percent of Canada's food service traffic, and that is expected to grow as more people opt for convenience and quick service.
SHARE: