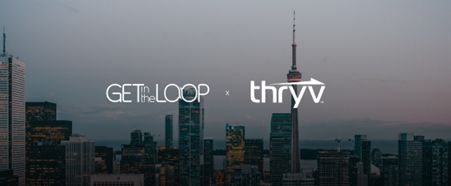 .
GetintheLoop leads American software and marketing company Thryv's launch into Canada, bringing their collective stack of marketing tools to local Canadian businesses.
Canada's largest shop-local network, GetintheLoop, announces a new partnership with Thryv Holdings, Inc. offering Thryv's small business management software to clients across the country.
GetintheLoop will connect Canadian small and medium businesses (SMBs) to digital business processes and client communications, using Thryv's unique platform. This will create operational efficiencies by helping business owners to automate previously manual tasks with a goal of simplifying operations and increasing profitability for over 1.5 million SMBs in Canada.
Through GetintheLoop's established relationships with chambers of commerce across the country and over 6,500 business partners, the partnership will utilize GetintheLoop's reputation as a vehicle for introduction and networking.
"We're very excited about this partnership and its many benefits to both organizations and, most importantly, local businesses," said Matt Crowell, Founder and CEO of GetintheLoop. "Together, we immediately increase the value we can bring to local businesses across Canada and create extensive growth opportunities for our organization."
"Thryv is looking forward to supporting small businesses in Canada," said Marie Caron, President of International Markets for Thryv. […] GetintheLoop's understanding of the region's SMB owners' needs will be invaluable and owners' familiarity with GetintheLoop makes this a perfect collaboration."
Thryv® helps thousands of businesses in America and overseas to manage their end-to-end operations and grow their bottom line. This partnership combines some of the best tools available for Small and Medium Businesses in one powerful package, meaning an all-in-one solution for business operations from marketing and accounting to analytics and more.
The GetintheLoop and Thryv partnership in Canada offers growth opportunities for both companies.
.
About GetintheLoop
GetintheLoop is a digital shop-local community that makes it easy to explore businesses, discover offers, redeem rewards, and support local by subscription from the convenience of your phone. The easy-to-use platform allows businesses cover all angles of their digital marketing without needing a marketing expert. GetintheLoop also offers franchising opportunities for entrepreneurs to adopt a GetintheLoop market and earn recurring revenue.
SHARE: