Roy LaBuick was honoured to receive the Queen Elizabeth II Platinum Jubilee Medal at The Queen's Platinum Jubilee – 70 Years of Service event this past November. At the event, Roy, a second-generation co-owner of Minuteman Press in Moose Jaw was joined by his wife Shannon and his parents and fellow Minuteman Press co-owners Carol and John LaBuick.
.
.
Pictured L-R: Shannon LaBuick; Roy LaBuick, Queen Elizabeth II Platinum Jubilee Medal recipient; The Hon. Russ Mirasty, Lt. Gov. of Saskatchewan; Carol LaBuick; and John LaBuick.
Announcing the award by way of a letter to Roy, Moose Jaw's Mayor Clive Tolley wrote:
"As you may be aware, prior to her passing, Queen Elizabeth II approved the creation of a commemorative medal in honour of the 70th anniversary of Her Majesty's accession to the throne as Queen of Canada. This medal will be awarded to 7,000 residents of Saskatchewan who have made a significant contribution to Canada, Saskatchewan and their communities.
You have demonstrated exceptional qualities and outstanding service to our province in the field of Volunteer Service. I am pleased to advise that the City of Moose Jaw has nominated you to receive this honour as a lasting recognition of your dedication and service."
.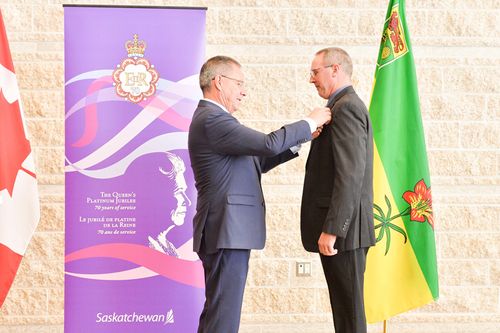 .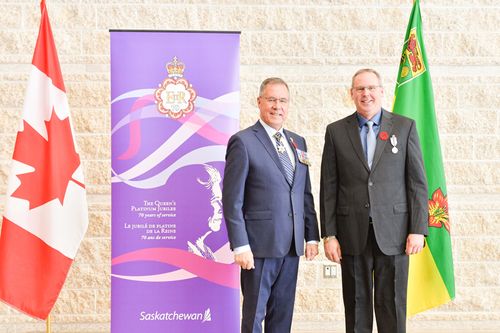 .
The Honourable Russ Mirasty, Lieutenant Governor of Saskatchewan, was present to present the medal to Roy.
.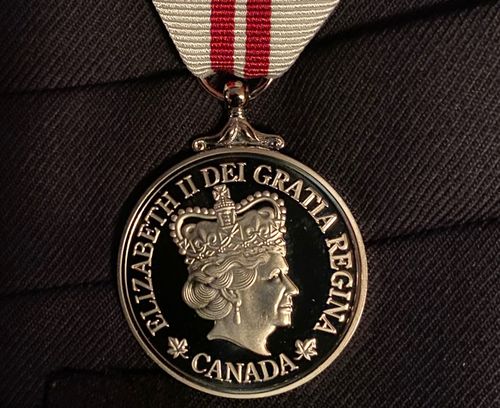 .
A closer look at the Queen Elizabeth II Platinum Jubilee Medal awarded to Roy LaBuick.
.
Roy also received a certificate of acknowledgment recognizing his "Valuable contribution to the Province" of Saskatchewan.
.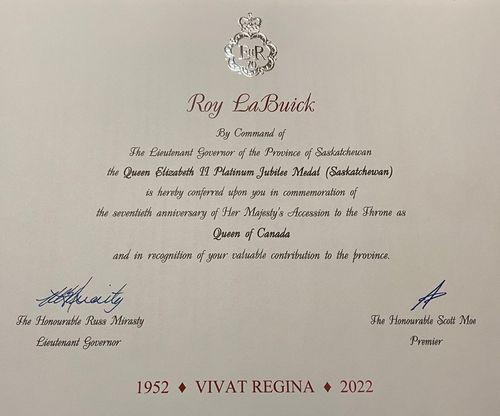 .
Roy shared, "I was truly humbled to receive this medal in honour of Her Majesty. It was a real honour to attend The Queen's Platinum Jubilee with my family and be recognized for service."
.
Minuteman Press Moose Jaw Also Sponsors and Prints for Snowbirds Golden Anniversary Reunion Event
Shortly before The Queen's Platinum Jubilee Event, Minuteman Press in Moose Jaw was also proud to support the Snowbirds Alumni Association's 50th Anniversary Golden Reunion as bronze sponsors and the primary printers. The first Snowbirds flew in 1971, however their 50th Anniversary event was delayed due to the pandemic.
Secretary and Past Snowbirds Alumni Association President Dan Dempsey, recounted the event, saying, "The atmosphere throughout the weekend was electric as old Snowbird teammates saw each other for the first time in decades, in some cases as many as 42 years. It was gratifying that every one of our 52 Snowbird teams since 1971 was represented by team alumni over the weekend."
Displaying their appreciation to the entire community, Dan also shared, "On the afternoon of Friday, 21 Oct the Snowbirds nine-ship took to the air to conduct a series of flypasts over the City of Moose Jaw to welcome home hundreds of former Snowbirds and their guests while simultaneously thanking the citizens of Moose Jaw for their unwavering support for more than five decades."
Hosted across three venues across Moose Jaw, Minuteman Press was able to meet all of the printing requirements for the Snowbirds Alumni Association event. Remaining very involved in the community and providing the printing for similar events are key reasons that Minuteman Press in Moose Jaw enjoyed record sales in 2022, and joining the President's Million-Dollar Circle.
SHARE: