Colin Pape grew up living and breathing small business.
Colin's parents were entrepreneurs who owned a retail paint store in Midland, Ontario for 28 years. Because of this, Colin got to experience the joys and challenges of running a local business firsthand.
In 2000, a number of big box stores invaded Colin's hometown, and the local business community did not take it lightly. They realized that the shiny new boxes on the outskirts of town could draw their customers away and threaten the businesses they had worked so hard to build.
Colin was only 20 years old, but he already had a thriving web development business. He had the idea to create a website where local shoppers could find what they needed and buy from local businesses. He called that site ShopMidland.com, and it was an overnight success.
By 2009, Colin had partnered with like-minded entrepreneurs to create an entire network of sites, which they called ShopCity.com.
Since then, we've been hard at work fine-tuning the model, building new features, and finding the right local partners to help us launch and grow new communities.
.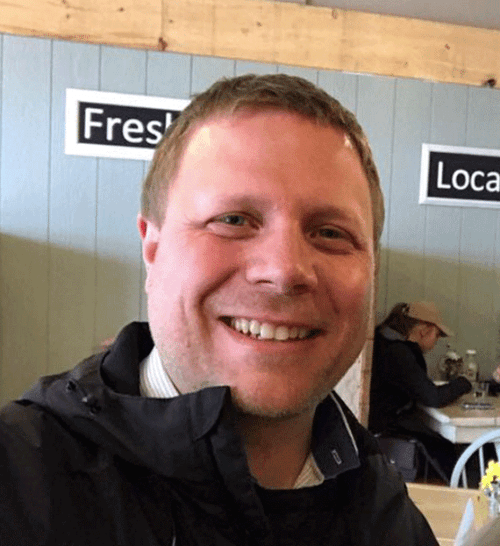 .
1. BeTheBoss.ca: Tell us about the ShopCity.com concept.
Colin Pape: Local independent businesses have always struggled to compete for the attention and business of local consumers, but since the arrival of the internet, the advantage big-box and chain stores hold is even more significant, because on the web they have the resources and money to push down independents to the point of invisibility. Online marketplaces like Amazon have added to the competitive challenges and made it a battle of behemoths, leaving local businesses only the scraps. ShopCity.com was founded on the idea that by working together, collaborating on one platform, the collective of local businesses can be as big and visible as their giant competitors. While philosophically we promote the Shop Local concept, in practical terms we don't have to change the attitude of the consumer - we only have to provide independents the ability to compete fairly for visibility, and give consumers the ability to see that what they're searching for is available from local businesses. We provide a platform that effectively levels the playing field and offers a suite of related marketing tools for small businesses that wouldn't be as accessible to them working separately.
.
2. BeTheBoss.ca: What are some of the advantages in being a ShopCity.com licensee?
Colin Pape: Our licensees are entrepreneurial. They appreciate having control over their working hours, working in their communities but from a home base, with no need for overhead other than gas in their cars and internet service for their computers. Our licensees are sales-oriented, so they love the daily communication with clients, ferreting out good leads and meeting new people every day - and as sales people, they generally love the rush of closing new business. They understand and value that they write their own paycheque. The more they are dedicated to the activity of the business, the more they earn. Those two characteristics are common to lots of business opportunities. Our distinguishing factor is that our licensees are community-minded. They get a lot of satisfaction from the social value of what they're building - a thriving local business community with diverse choices and true local flavour. They enjoy seeing the impact of their work on the success of their clients, and they believe in what they're doing. They're building a business with a meaningful purpose.
.
3. BeTheBoss.ca: What attributes are you looking for in a prospective licensee?
Colin Pape: Those things I just described as the benefits of being a ShopCity.com licensee - those are the attributes. If you see those benefits as exciting - if you are entrepreneurial, sales-oriented (and even better, sales-experienced) and community-minded, you have the qualities we're looking for. Being technically capable is important as well, though we can teach most of those skills.
.
4. BeTheBoss.ca: Tell us a little about the Market?
Colin Pape: Our clients range from home-based businesses like handymen or custom cake-bakers, through small mom-and-pop shops, to local businesses that have become anchors of their Main Street, perhaps employing even dozens of local workers. They can be fully independent or franchisees, brokers or agents. We also try to give some autonomy to our license holders to determine what qualifies as a local business in their community. The local franchise owner of a major household name brand business might in one community be the Shop Local stalwart, someone other business owners aspire to imitate, and in another community be viewed as the Corporate Guy that threatens more fully independent outfits. Our licensees know their communities better than we ever could, and should be able to build a business that reflects what Shop Local really means in their market.
.
5. BeTheBoss.ca: What are some of the greatest lessons you've learned in growing this business?
Colin Pape: Over many years, I've learned and been reminded that although ShopCity.com offers a technology platform, this is a people business, and great people are the key to success. Technology is only valuable when it benefits people, and people are critical to successfully implementing a technological solution. Community is built by people, and it's continually astounded me just what is possible when passionate community members work together toward a collective goal.
.
6. BeTheBoss.ca: What advice do you have for someone looking to acquire a ShopCity.com License?
Colin Pape: First: We love innovation, and new licensees with new ideas are always exciting to us. But there are fundamentals about our business that don't change, starting with the fact that our advantage is that in serving local businesses, we're a local business too. Being face-to-face (even if it's by video meeting these days) with prospective clients is central to who we are. Great marketing ideas will enhance that, feeding the opportunity to meet with small business owners, but won't replace it. If you want to run a business during off-hours, from a computer in your kitchen, this isn't the business for you. Second: Our business model is solid, and for the right person, will provide a desirable income. But there's some building time. In addition to the license fee and launch/training fee, you'll want to have some savings or an additional household income that will see you through the period where you're building a client base and growing your ongoing residual income from subscription revenue.
.
7. BeTheBoss.ca: In your opinion, why do you think that ShopCity.com is a great opportunity?
Colin Pape: We feel a real kinship at ShopCity.com, both between headquarters staff and the license holders, and among the license holders. We support each other and become friends. The reason that comes so easily is our common interest in the Shop Local movement, in community-building and in our pride in what we do. I know that sounds like a trite pitch, and I imagine other business opportunities talk like that sometimes, and maybe it's true when they do. But from where I sit, it really feels like what's great about our company and our team. Our license holders are often working alone or with just family members in markets spread across the country. It would be easy to feel alone and adrift in a business like that, but we don't. While building our individual communities, we've built one among ourselves too.
SHARE: