BeTheBoss.ca: What's the story behind Foxy Box Wax Bar?
Kyla Dufresne: A bottle of wine? To be completely honest, some of my most inspired ideas have happened over happy hour. The reaction I got when I shared the name with friends confirmed just how perfect it was. I needed something bold, fresh and catchy, and Foxy Box fit the bill. ;)
.
BeTheBoss.ca: What made you decide to create this franchise?
Kyla Dufresne: I knew from the very beginning of Foxy Box that I wanted to take this brand all over the globe. My motto for the last decade has been "taking over the world, one box at a time"! One of my more audacious goals is to hit 50 locations in 5 years. Franchising provided the best and quickest growth model to suit my ambitions. So I created a new company for Foxy Franchise HQ and never looked back.
Plus I love working with and uplifting other women, and franchising works best when you truly tap into the power of collaboration. As our incredible team grows, it's amazing to see how our commitment to each other's mutual success is the ticket to a thriving franchise system. After all - if you want to go fast, go alone, if you want to go far, go together.
.
BeTheBoss.ca: What was your background prior to forming the company?
Kyla Dufresne: I'm pretty certain I was an entrepreneur straight out of the womb. I've always idolized business owners, and my father was the hardest working man I know, so I learned how to hustle and make my own way early on just by watching others. I got my very first job at the age of 12 making muffins and playing barista in my mom's bakery. Throughout my high school years, I pursued my aspirations of being an actress. Unfortunately, you won't find me on any big screens as the industry only found me useful in the background lol.
After landing in Victoria, BC I completed my training to become a mental health support worker, which I did for a year or so before realizing how energetically taxing that position was. I then began my illustrious career as a barwench, my energetic personality and strong work ethic made me a successful personality in the Victoria nightlife scene, and it was the tips I made behind the bar that financed the beginning of Foxy Box.
Somewhere in there I also started a clothing company called Lyrik, which didn't stand the test of time but solidified my desire to own my own business, and still remains very near and dear to my heart. Somehow all of that led me to Foxy Box, and each part of my journey has taught me something about being in business and embracing leadership.
.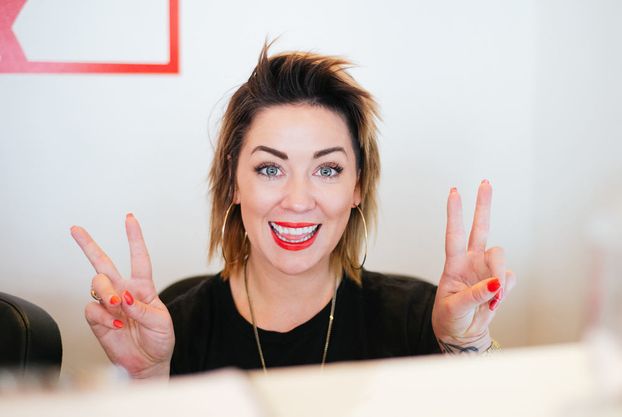 .
BeTheBoss.ca: Can you tell us about the Wax Bar market?
Kyla Dufresne: The Wax Bar is a quickly emerging popular Franchise to invest in. The concept is fairly new which means there is a large market to cater to, with less competition than that of a food and beverage franchise, and it's based on built-in repeat business (hair grows back)! According to research from IBISWorld, the personal waxing and salon industry grew an average of 7.6 percent annually between 2010 and 2015. The value of the global hair removal market amounted to 880.2 million dollars in 2017 and is expected to rise to about 1.35 billion U.S. dollars by 2022 which is a 9% Compound Annual Growth Rate.
.
BeTheBoss.ca: Could you describe your corporate culture?
Kyla Dufresne: We know how to run a professional business, but we like to have fun while we're doin it. We put a lot of footwork into finding out who we are at the core of Foxy Box to make decision making easy as we move forward. To be a part of the Foxy Box Brand, you must have 3 qualities: empathy, a positive attitude and be self responsible. These attributes are critical in maintaining our culture as we grow and scale. We have 6 core values that guide our corporate culture. We live by these values, and we believe that we make life better because of them:
Everyone deserves to feel good
Energy is everything
Don't beat around the bush
We're stronger together
Humour is CRITICAL
A Foxy Box is the key to happiness
.
BeTheBoss.ca: Who or what has been your greatest inspiration?
Kyla Dufresne: My failures have been my greatest inspiration. I've made many slip ups in the nearly 10 years in business, and each one of them has been the greatest education I could receive. Anytime something has gone not to plan, I let myself feel the waves of emotions that come with it, pick myself up and use that as fuel to repel myself forward. Because of my trials and tribulations, I have come out more over prepared than most concepts to go to market as a Franchise.
.
BeTheBoss.ca: What are the advantages in being a Foxy Box franchisee?
Kyla Dufresne: With 8 locations and counting, we have really systemized opening and running a successful business. We really value collaboration and believe that with all of our heads together, there is nothing we can't accomplish. One of my favorite parts of our support structure is our monthly team meetings. We all bring to the table one struggle, one win and one great idea. This is an opportunity to support each other and be creative. Some of our greatest marketing ideas have come out of these meetings.
.
BeTheBoss.ca: What differentiates Foxy Box from its competitors.
Kyla Dufresne: There's a lot that I think sets up apart in the industry. For one, we've mastered the art of the Brazilian and we've designed an incredible training program to teach our Foxy technique to anyone in the span of a week, which means we get to hire based on personality instead of scouting for aestheticians. This is one way that we maintain such a wonderful workplace culture.
Also, we're always innovating and evolving as a company, from laser hair reduction to our monthly membership model, we love thinking about how we can improve while continuing to deliver on our brand promise. More recently, we just became a Green Circle certified sustainable salon. We are so excited to do our part and keep our waste out of the landfills. Salons on average send 877 pounds of waste to the landfills EVERY MINUTE!! This is crazy, we need to do our part in helping the environment. Our waste now all gets converted into energy and the remnants get used in paving roads etc. As we grow we continue to improve our operations and to think about how we can elevate our brand.
And it goes without saying that we have an undeniably cool brand. From our logo, to our marketing campaigns, to our website: we stand out from our competitors, in the best way possible.
.
BeTheBoss.ca: What advice do you have for someone looking to acquire a Franchise?
Kyla Dufresne: Do your research! A franchise partnership is like a marriage, so it's really important to find the right fit. Figure out what you're looking for in a brand and then look for companies that you feel truly aligned with.
.
BeTheBoss.ca: In your opinion, why do you think that Foxy Box Wax Bar would be a great opportunity for someone?
Kyla Dufresne: It's a great financial opportunity, as evidenced by the success of our existing corporate and franchise locations, which are thriving in a variety of different markets. But more importantly, it's a great opportunity to build a fulfilling career for yourself and make a positive impact in your community.
SHARE: