Balbina Dabrowski is Chief Operations Officer of Life Maid Easy and founding member of its licensing company Bwysk Strategies. She came aboard in 2016, bringing more than 10 years of entrepreneurial leadership, marketing expertise, and executive management experience to her role with the company. She is a Vancouver native that in her spare time loves spending time with family and friends exploring her beautiful city, she specifically loves discovering new restaurants and is always on the lookout for hidden gems around town.
Please answer the following questions:
1. Tell us about the Life Maid Easy concept.
BD: Our mission is to provide premium cleaning services to busy households, using sustainable practices, from the products we use to our EV fleet. We enrich lives by giving people their valuable time back. We work tirelessly behind the scenes to ensure the customer journey is made as Easy as possible: we respond quickly via text, phone, email, and web; offer 7 days/week availability and use Green-Certified products safe for kids and pets.
2. What was your background prior to joining Life Maid Easy?
BD: My education and experience is quite diverse. My early beginnings were in broadcasting and media advertising, from there I transitioned into a career in events and marketing. My experience has given me the opportunity to work with various fortune 500 companies nationally.
3. How and when did you become involved with Life Maid Easy?
BD: I joined Life Maid Easy in 2016 with a goal to expand and grow the business into a Nationally recognized brand. My corporate and marketing experience lent a helping hand in transitioning from a "mom and pop" to the scalable franchise model that it is today.
4. What are some of the advantages in being a Life Maid Easy franchisee or Master Franchisee?
BD: a. A great advantage is a healthy work-life balance. Owners set their own day-time availability and can have evenings free.
b. Minimal operating costs and admin work. A Life Maid Easy franchise comes with a full support team that is available 7 days/week: sales staff, billing specialists, customer care, social media experts, and technical support.
c. Low investment and no build out cost. Our business is mobile, no need for an expensive lease and you can grow your business as customer demand increases.
5. Who is your ideal Master Franchisee?
BD: a. The ideal Master will take on an entire province or state.
b. Is passionate about customer service and aligned with Life Maid Easy core values
c. Has experience in the cleaning industry.
d. Will fully dedicate themselves to the growth of their territory.
e. Aligned with our values that stem around the 4w's (Whistle While We Work). They need to love what they do and have fun doing it!
6. Tell us a little about the Life Maid Easy Market?
BD: Busy working professionals.
New parents and seniors that need a helping hand.
The market is changing very quickly to include a wider range of income levels. With the increase in services like Hello-Fresh and DoorDash, people are realizing the value in outsourcing their chores (shopping, cooking, cleaning), so they can enjoy more time with their family and friends.
7. What are some of the greatest lessons you've learned in growing this franchise?
BD: We've learned that the most important area for our franchisees to focus on is business development. We've come up with procedures to help free up their time to allow to take up 90% of what they do.
Franchisees are a great support system for one another. Our franchisees work together on promotions and by sharing ideas on marketing strategies. There is power in numbers!
8. What advice do you have for someone looking to acquire a Life Maid Easy Franchise or the Master Franchise rights?
a. Dedication: one of the characteristics we value when considering a candidate is their entrepreneurial spirit. This person may already have one or more businesses up and running, but this venture requires 100% of their time. Be fully dedicated to the success of your LME franchise, and we'll be right there with you, all the way to the top!
b. Realistic Optimism: Remain aware of and confront challenges while still striving to reach audacious goals.
9. In your opinion, why do you think that Life Maid Easy would be a great opportunity?
BD: What is unique to Life Maid Easy is the amount of support received. Our franchisees interact with corporate head quarters on a daily basis. For someone starting a business for the first time I feel that this is very reassuring. We're all in this together!
Being a mobile business is a huge perk to our business. Getting started with Life Maid Easy is quick and simple, get your business up and running in weeks!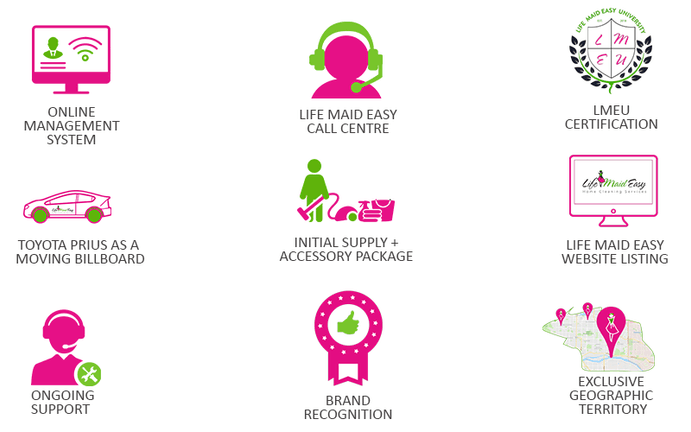 SHARE: