Adam Tomczyk, the CEO of Mad Radish, is a seasoned hospitality executive with a proven track record of driving growth in some of the world's most competitive markets. Adam held senior operational roles in New York City at Chopt Creative Salad Company and Pret A Manger, overseeing rapid expansion and driving greater efficiency in training, service and labour performance.
Adam leads by example, maintaining the highest standards of excellence, leadership and care for his teams. He's a consummate operator who is also highly skilled at product development, training, finance and marketing.
He's passionate about food and travel, with a special interest in international cuisine.
.
BeTheBoss.ca: Tell us about the Mad Radish concept.
Adam Tomczyk: We're on a mission to elevate fast food and transform the way people think about healthy eating. Our menu of internationally inspired bowls and better-for-you burritos put flavour and quality above all else. Dishes are fully customizable and customers can choose any fresh roasted protein they like, instantly transforming their bowl or burrito into a vegetarian or vegan dish. We're focused on providing our customers with a consistent, efficient, nutritious and delicious experience, whether it be in-store, through our app or via a 3rd party delivery partner. We're brand builders, and we love to engage with our customers through corporate catering, social media, influencers, events and sampling. We believe that the future of fast food is healthy, and we're ready to be the market leaders in this category.
.
BeTheBoss.ca: How and when did you become involved with Mad Radish?
Adam Tomczyk: I joined Mad Radish in 2017 shortly after the brand was created by David Segal and Stephanie Howarth, two Canadian retail veterans who had recently taken their first startup public on the NASDAQ. They'd conducted an exhaustive search for a co-founding operator who shared their ambition for creating a high quality to-go brand, and recruited me from New York City. My family and I moved to Canada, making it the fourth country I've called home, so that I could join the team and lead our expansion.
.
BeTheBoss.ca: What was your background prior to joining Mad Radish?
Adam Tomczyk: My passion for hospitality began during my time at Pret A Manager, a UK based, $1.5 billion dollar international purveyor of organic coffee and freshly prepared food. As a young man, I worked my way up the ranks from team member to senior operations manager, learning every aspect of running a successful chain. After operating some of their highest volume UK locations, I headed up Pret's expansion in Manhattan, where I learned key insights about evolving your assortment and marketing to North American audiences.
.
BeTheBoss.ca: What are some of the advantages in being a Mad Radish franchisee or Master Franchisee?
Adam Tomczyk: You'll be benefiting from our decades of experience operating profitable restaurants, and you'll have the full support of the founding team. Mad Radish franchisees will be first to market in most Canadian communities, where downmarket subway and salad brands are the only option for people trying to enjoy a healthier diet. You'll be incredibly proud to serve high quality, delicious dishes while enjoying the strong KPIs that come with an expertly operationalized menu. We've negotiated strong rates with 3rd party delivery partners like Uber EATS, and you'll benefit from the leverage we've established with our carefully chosen vendors.
.
BeTheBoss.ca: Tell us a little about the healthy fast casual Market.
Adam Tomczyk: QSR and fast casual concepts account for about 50% of restaurant sales and are growing at a pace of over 4% per year. With home delivery representing over 28% of fast food sales, offerings that are made-to-order and built to travel are poised to make major gains. Among younger customers, there is a big push towards healthier, socially responsible brands. A report by Nielsen showed that 41% of Generation Z and 32% of Millennials would "pay a premium for sustainably sourced ingredients". A 2021 study by Leger Research shows that consumer demand for plant-based foods is growing in Canada and around the world. 67% of Canadians consume plant-based foods regularly, and 31% of Canadians plan to eat more plant-based foods within the next year. With governments moving to ban single use plastics and consumer demand for environmentally friendly packaging at an all-time high, Mad Radish is ahead of the curve with our compostable packaging and plant-based protein options.
.
BeTheBoss.ca: What are some of the greatest lessons you've learned in growing this franchise?
Adam Tomczyk: We've learned that, above all else, the financial model needs to make sense for our franchisees. You can serve the best food in the country, but if your store payback takes 5 years, it's not going to make sense for most franchisees. Our store development team has driven down build out costs aggressively without compromising on the elements that make Mad Radish special, and now we're ready to scale the business knowing that our franchise partners will enjoy quicker returns and even greater success.
.
BeTheBoss.ca: What advice do you have for someone looking to acquire a Mad Radish Franchise?
Adam Tomczyk: Take the time to study the menu and learn what makes us unique. Check out our Instagram account and discover what our customers care about. The most successful franchisees are passionate about the products they serve and the values of the company they represent. We're looking for driven, effective leaders who are excited to get out in the community and drive incredible results.
.
BeTheBoss.ca: In your opinion, why do you think that Mad Radish would be a great opportunity?
Adam Tomczyk: People choose Mad Radish because they believe, as we do, that the future of fast food is healthy. We've developed a culture that values excellence and collaboration so that, together with our franchisees, we can evolve and accelerate growth.
From years of brand building, menu refinement, and world-class operations' implementation, we've poured our passion into creating a business worthy of their investment and trust. Everything you need to succeed is in place and there's never been a better time to own a business that's tech forward, health-centric and environmentally responsible.
.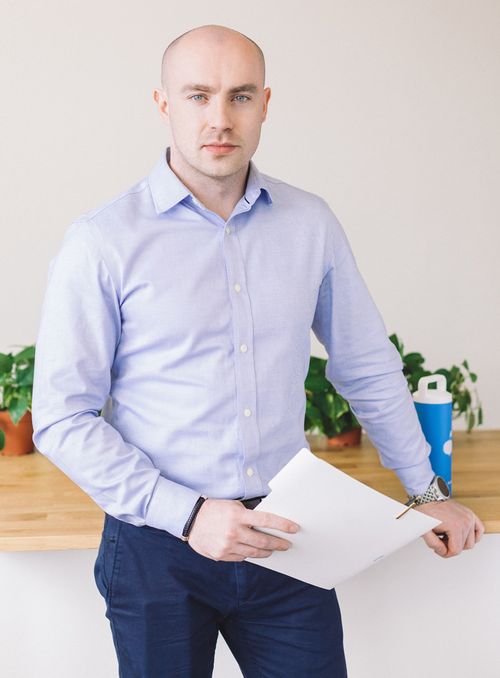 .
SHARE: